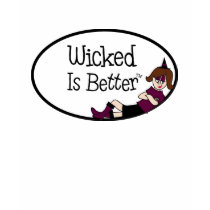 I just received the softest, most fashionable t-shirt ever! Move over Life Is Good, a new t-shirt brand is taking a more
'realistic' approach to fashion slogans.
We all know life is not always good, and there's a playful new line of clothes that allows you to express the realistic side of life. Wicked Is Better t-shirts (SRP: $20 – $30 ) are a fun new way that embraces the imperfect part of life. And let's face it, sometimes being bad or wicked can feel so good!
The fun and youthful designs of  Wicked Wilma and Wicked Willie are the face of Wicked Is Better. The shirts come in tanks and tees in different colorways and designs. Check it out.