'Tis the season for holiday parties. Whether going to an office party, friend's home or hosting your own party, make a statement with the perfect nails to match your little black dress or colorful frock. Yes, accessories are key—but the perfect nail color can take your look to a whole new level. With the following guideline from Nail expert and Creative Director of Pretty Woman USA, Aija Vilemsonne, you will have your coworkers, guests and friends swooning over your ability to nail your overall look from head-to-toe.
All that Glitters
Nail art, though fashionable, may not be appropriate for your annual holiday office party. Since you are steering clear of patterned nail art to make a statement, experiment with sparkle. Perfect for the holiday season, a gold or silver glitter polish makes a statement without being too loud. Glitter polish goes great with black, darker colors and even basic colorful and patterned outfits. Sparkle and stand out in the crowd. If you prefer to steer clear of glitter, try metallic colors for the same effect. Wearing a basic nude dress? Try a navy metallic polish.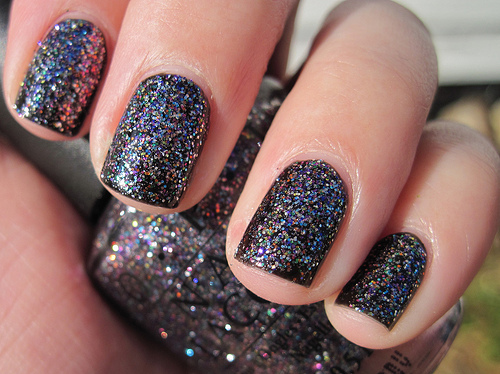 Go bold
For those planning to wear black and darker colors, splash on two coats of red polish to play up your holiday look. With a plethora of shades at your disposal, you can play up your LBD and suit your personal style. Feeling hot? Opt for a fire engine red. Want to play it safe? Go with a copper or burgundy polish. It doesn't end at red. If you would like to opt for a different shade, Aija recommends a shade of violet, a great color this season for a similar effect.
Neutrals and Pastels
You can't go wrong with neutrals. This universal look is very easy to wear with any outfit. If you are wearing a heavily embellished or colorful patterned outfit, stick to the basic neutrals. A basic color will better suit your overall look. If you plan to wear a basic color, for instance a dark purple, add some flair and go with a festive pastel mint green polish. Pastels, though neutral, compliment and transform a basic look into a fun, appropriate holiday party look.
Information courtesy of Pretty Woman USA,  for more nail tips and trends.