***THIS GIVEAWAY IS NOW CLOSED. CONGRATULATIONS TO WINNER, ERICA C.!***
It was as though the fresh laundry had been hung out in a backyard with the sun as its natural dryer… that is how I can best describe the scent of Heidi Klum's perfume Shine.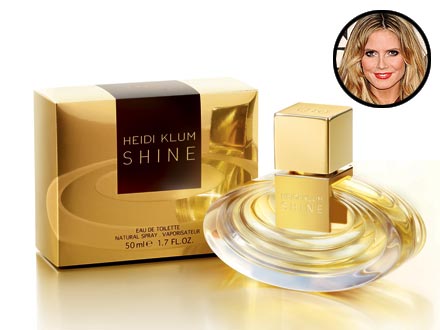 An "ultra feminine" fragrance, it incorporates notes of warm amber, vanilla and lily of the valley. "It's for a woman that enjoys life and whose radiance glows from the inside," Heidi Klum said. "To me, Shine is about the confidence, joy and the wit of a woman's personality. A woman like that 'shines.'"
I was surprised to find that I would fall in love with it!  I typically wear Gucci Guilty but am happy to say that they now both share space on my dresser.  If you are in the market for a new
fragrance
I highly recommend this scent from the supermodel and businesswoman.
It puts you in this calm, beautiful space with a lingering aroma that will make for a perfect moment. Top it with a cute sun dress, some wedges and your favorite sunnies and you will be ready for the day or night.
I have nothing bad to say about this scent, how could I as fabulously gorgeous as Heidi is!
It can be found on Amazon.com
. ENJOY!
.
GIVEAWAY: I would like one lucky winner to receieve Heidi Klum Shine. Enter the giveaway by commenting on this post.
MANDATORY ENTRY: You must follow @ByondBlckBeauty on Twitter and/or like Beyond Black Beauty on Facebook. This contest is open to United States residents and will close on Monday, July 2. I will announce the winner on Tuesday, July 3. The winner will be chosen at random and notified via e-mail.